Top Hardware
Design Services
Do you need electronic hardware design? Bring your idea or project to DeepSea Developments. Get top hardware design services to develop or improve your hardware product with a solid technical team.
Get embedded systems

Fast prototypes 

Custom hardware development
Do you need electronic hardware design?
Electronic

Hardware Design
Many projects take too long to reach the market because entrepreneurs and companies don't know where to start or how to design the hardware product entirely.
When you hire DeepSea Developments, you have a top hardware design company that can help you get the best outcome for your hardware product development.
We offer you the talent of featured engineers with strong knowledge in electronics design, proof of concept, schematics
design, bill of materials, assembly, and manufacturing.
Among our Hardware Design Services, we can help you test your idea through small-batch manufacturing. This process is helpful for quickly validating the functionality of the hardware design and PCB board.
Custom Hardware
Development
Our hardware design services start with a kickoff, that is, a first meeting with the work team and the project manager that will be in charge of the custom hardware design of your device.
We will present to you the hardware project planning, and we will carry out specific research to validate your idea and the technological components it needs to be functional.
You can get a render of your device with our industrial designers, that way you will have an idea of what your finished hardware product will look like. This high-quality render can be a good strategy for validating your idea with early adopters or investors.
Once you agree with the delivery times, our expert hardware engineers will start working on research, microcontrollers, and design of your PCB. We try to provide the best embedded hardware design services.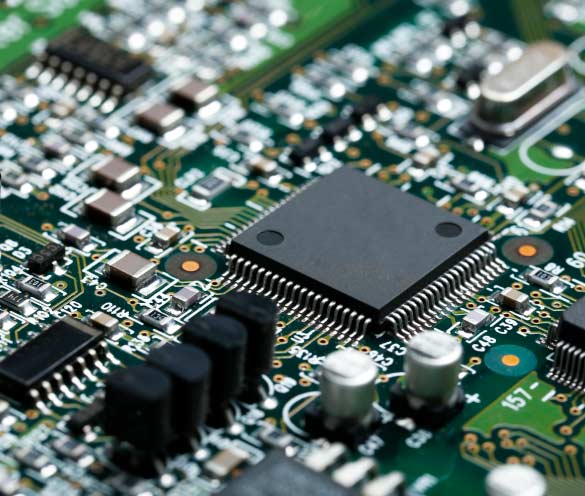 Once the design process is finished, we advance to a crucial step of the project development, which is hardware prototyping. 
We need to confirm your product provides a seamless user experience. The expert team of our hardware development company will perform several tests with a functional prototype of your device. The results will show which features are working well and adding value to your product.
Hardware

Prototyping Development
This part of the process will guarantee that your device works. Hardware development companies know how important it is to build devices that will perform well for a long time. At DeepSea Developments, we are experts at building and developing hardware; great electronic hardware design makes your device more exclusive, original, and appealing.
Software and Hardware Development Company
Our development team will build and integrate
Embedded Software or Firmware into your hardware. With the embedded hardware development service you will receive:
Embedded software (firmware) architecture & development.
Embedded Linux programming (scripting in bash, C, and Python).
Embedded programming of microcontrollers using C. We have worked with Atmel's AVR and SAM family, ST's STM32, Esperessif's ESP32, and Microchip's PIC.
We are


hardware manufacturers
Once your hardware design and development are finished, you can either decide to show this version to potential investors or continue with the manufacturing process.
Our engineering team will also provide you with the electronic design of your hardware product, assembling steps, and connections.
We can produce from 1 to 2,000 units at a low cost. DeepSea Developments will give you some suggestions on the different components you can use for your product.
Our Hardware Development Timeline
Deepsea Developments has a clear and reliable hardware design development life cycle. Through scrum methodology and agile processes, there are incremental improvements every week.
Some companies that have
trusted in our hardware
Design & Development capabilities
Looking for electronic hardware design?
We are trustworthy, productive and we perform consistently well on developments. You receive what we promise while keeping your ideas safe.
We deliver timely results. We have your proof of concept validated in a short time, your prototype ready and attractive for investors and customers.
We ensure full transparency throughout the process. You
always know what is happening thanks to regular communication with the remote team, just as if you were working with an in-house team.
We are a long-term partner that cares about your business and its growth. You get advice and hassle-free cooperation to improve your business model and product quality
Do you still
have questions?