We are happy to announce that one of our newest open source products has been featured in several websites prior to its launch.
DeepSea Developments has experience creating over 50 products, and we love entrepreneurship. With our knowledge, we love to support the maker community by creating open source products.
For this reason, we designed a cool macro pad, and we wanted it to be open source to give people the opportunity to be creative and customize it as they see fit. During the Covid-19 pandemic, we developed an open source thermal camera, and we thought it would be nice to launch a new product for technology lovers.
Benefits of open source macropad

This new open source product of DeepSea Developments is not a simple Macropad. Hackster has commented that "DeepDeck is a unique new DIY macropad that utilizes an ESP32 to add Wi-Fi and Bluetooth."
People may think this is just a cute macro pad, however, it has two RGB rotary encoders and 16 RGB-backlit keys (which are individual) to which users can assign any functionality.
For instance, you can program the open source macropad to perform different tasks. You can use it with a design software, assign shortcuts to any program you need, master 3D modeling software, improve your editing skills in audio or video, debug better your code in VScode using shortcuts to navigate it, and set up commands for your favorite games.
Hackster also mentions that "DeepDeck is apart from the competition". Among the features, the pair of rotary encoders the macro pad has provides an additional means of control.
Thanks to this, the user can program the encoders to change the volume, zoom in or out in any design software (Photoshop, illustrator, among others), or set it up for time-tracking.
The knobs allow changes with any fluid-motion tool, and it is cleaner than using your mouse or a standard keyboard.
On the other hand, Hackaday said our open source product "DeepDeck is going beyond the macro pad, it is an attempt to make a macropad with functionality that goes way beyond simply pressing keys."
Why? Because this open source product has an ESP32 module, and has integration of bluetooth and wireless connectivity. This not only gives potential for the product to be connected to a PC or laptop, but also, it has the capacity to connect to online APIs that are programmed by the user.
Koolpaz stated, "this allows the product to automate complex queries involving other sources into a keypress, which gives it many more possibilities."
With the Macropad we developed, you have many opportunities to program interesting tasks into a small device. Where can you connect this device?
Windows.
MacOS.
Android smartphone and tablets.
iPhones and iPads.
Online services (through APIs).
Imagine having the opportunity to post an image on Facebook without the need of a phone or PC. In other cases, you could control the playback of Spotify. That's one of the capacities that makes this device so interesting.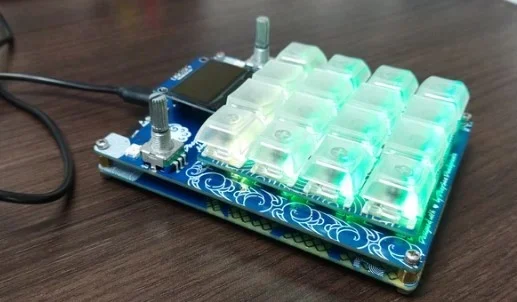 Our new open source macro pad will improve your productivity by programming keys, macros, and shortcuts.
PCBWay said in their blog, "DeepDeck, combined with 16 RGB, mechanical keys and two RGB rotary encoders with push buttons, is a wireless, fully programmable and open source macropad. It can connect to your devices via Bluetooth, no matter what system your device is. You can also improve your productivity by customizing DeepDeck."
Open source macropad features

Hackaday highlighted the features of our macro pad called DeepDeck:
Wifi?.. Wifi! You can program it to connect to APIs and check the weather, your youtube subscribers, or get your daily tasks list from Notion.
No software compatibility issues. DeepDeck does not need software to be configured. It works like the modems/routers. You can set it up from your computer or phone.
They also mentioned some deeper technical features:
Based on ESP32, so Bluetooth and Wifi integrated.
4×4 mechanical keys with hotswaps!
2 RGB LEDs for status.
RGB LEDs on every key.
2 rotary encoders with push buttons, and gestures like double-click and long-press.
128×64 OLED screen
I2C port for future sensor expansion.
Connector for LiPo Battery.
USB C connector.
Embedded settings menu.
Embedded webpage for advanced configurations.
DeepDeck crowdfunding campaign is open!

We will release four versions of the macro pad open source product.
Check the different versions of the DeepDeck on Crowdsupply, and support the campaign, early backers can choose wich version of the product to receive.
Links where our open source macro pad was mentioned:
Update: We are really excited because we were invited to Crowd Supply Teardown event in Portland to present our open source macropad.